Experience the enchantment of a winter wonderland from the cozy embrace of your bedroom with our exquisite Christmas bedding designs. As the chilly winds and soft snowflakes create a serene landscape outdoors, our thoughtfully crafted bedding transports you to a world of warmth and festive magic indoors. Imagine sinking into the plush layers of a comforter adorned with intricate patterns inspired by delicate snowflakes – each unique, just like the real ones falling outside your window. The color palette, a harmonious blend of icy blues, deep velvety reds and shimmering silvers, captures the essence of the season, bringing forth a sense of comfort and joy. Our Christmas bedding collection is not just about the visuals; it is about creating an immersive experience. The fabric has been meticulously chosen to ensure a luxurious touch against your skin, providing the utmost comfort during the chilly nights.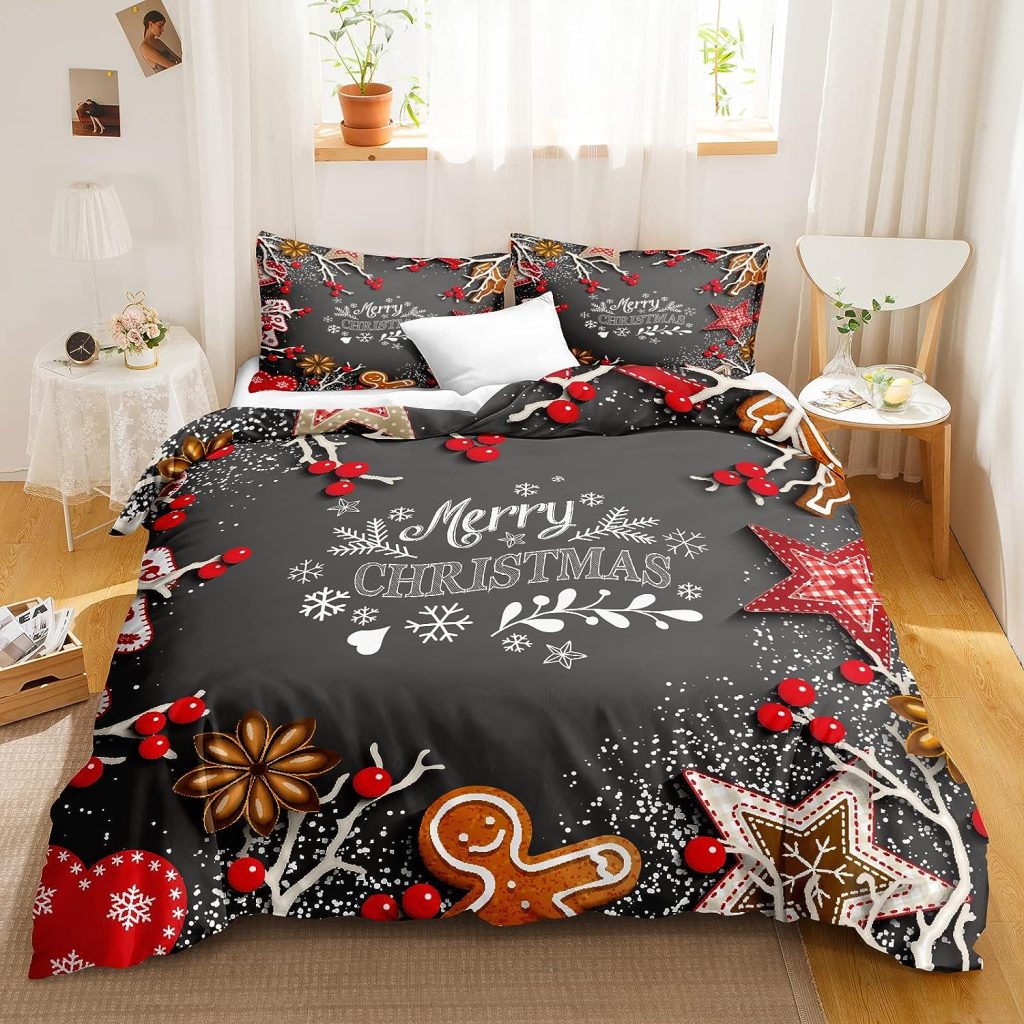 As you wrap yourself in the softness of the sheets, you will feel as though you are nestled within a charming cabin in the heart of a snow-covered forest. The attention to detail is evident in every stitch, with delicate embroidery that depicts scenes of cheerful snowmen, festively adorned trees and perhaps even a glimpse of Santa and his reindeer as they embark on their annual journey. What truly sets our winter wonderland bedding apart is the emotion it evokes. The holidays are a time of togetherness and our bedding designs seek to capture that spirit. Whether you are sharing the Christmas bedding with a loved one, cuddling up with your children for a bedtime story or enjoying a moment of solitude with a cup of hot cocoa, these designs infuse your space with an ambiance that encourages connection and reflection. The beauty of the season is brought to life not just through the visuals, but through the way the bedding makes you feel – nostalgic, joyful and ready to embrace the festivities.
Furthermore, our Christmas bedding designs extend beyond aesthetics, incorporating quality and durability to ensure that this winter wonderland can be revisited year after year. The materials are carefully chosen to withstand the test of time, maintaining their softness and vibrancy even after multiple winters. This commitment to quality ensures that your bedroom will continue to be a haven of holiday cheer for seasons to come. In conclusion, our Christmas bedding designs offer more than just a set of sheets and comforters – they invite you to step into a winter wonderland of dreams. The combination of exquisite visuals, luxurious comfort and the warm emotions they evoke make our bedding an essential part of your holiday celebrations. Embrace the magic of the season, even as you snuggle up for a good night's sleep and create cherished memories that will last a lifetime.